5 Books Publication Prohibited - 1.
LEKRA NOT burn BOOKS
This book is interesting apart from a single source is used; provide information on the situation of Indonesia from the perspective of People's Daily.
For historians, this book becomes a very useful resource if they want to do further research on the role of newspapers, especially in the period of Liberal Democracy and Guided Democracy.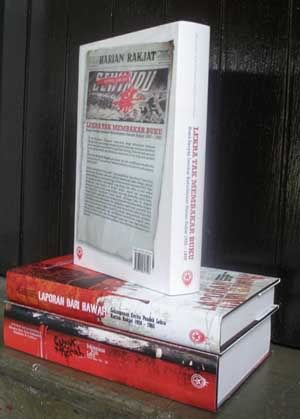 DO NOT burn LEKRA BOOK: Silent Voice of the People Daily Sheets Culture Author: Rhoma Dwi Aria Yuliantri and Muhidin M Dahlan
2.
The excuse mass murder and the September 30 coup Suharto
ISSI published the book Pretext for Mass Murder contribution to the study of contemporary history of Indonesia, particularly the events of the G-30-S.
In this book John Roosa showed commendable scientific attitude as a historian: he revealed new sources of G-30-S that has not been used before, examining every source available about the incident in detail, and present arguments and conclusions based on findings that .
The prohibition by the Attorney General clearly hinders the development of historical studies in particular and scientific work on the pretext umumnya.Buku Massacre have been circulating for a year and nine months, and it received both from within and outside the country.
This book is nominated for best book in the International Convention of Asian Scholars, the largest scientific event for the field of Asian studies in 2007.
The review of this book was published in various international scientific periodical.
In Indonesia alone, the book is welcomed by historians, school teachers and the general public in various seminars and scientific meetings held so far.
Writer: John Roosa is a Professor of history at the University of
British Columbia in Vancouver
3.
6 ROAD TO GOD
Six Paths to God This book explains the six path as taught by Krishna Dwipayana Vyasa, Siddharta Gautama, Abraham, Moses, Jesus, and Muhammad.
4.
The Church Voice For Oppressed People
Among the institutions that traditionally have emotional intimacy with the people of West Papua is the institutional church.
Church in West Papua, in addition to non-governmental organizations have concerns of various human rights violations that occurred in West Papua.
Church and people of Papua fought for the sake of human rights in West Papua.
Here's one article about the problem of Catholic clergy human rights abuses in Papua? With editing as necessary?
both before and after the passing of reform in Indonesia.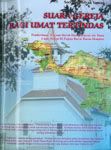 Reverend Socrates Sofyan Yoman, author of "Voice of the Church for the People of the Oppressed" admitted until now has not received official notification from the Attorney General regarding the prohibition of books circulated for work.
"To date I have not received such notice, even though my address is clear," said Socrates in Jayapura, on Friday regarding his books were banned by the AGO
5.
Ten Sins of SBY-JK
Controversial book entitled "10 SIN SBY-JK" by Boni Hargens, FISIP UI faculty has made ​​a red ear of SBY-JK government.
Ten "sin" President Yudhoyono and Vice President Jusuf Kalla, who noted Boni, among others, is the increasing number of poor and unemployed people, eradication of corruption is selective logging, and the slow handling of cases of Lapindo mudflow in Sidoarjo.
Just Info also Boni Hargens himself is the author of a book titled "Cikeas Octopus,"

which lost gg kontrofersial with the previous books